Feb. 14

FREE Webinar: Inside the Mind of a Specifier -- 8 Things Product Representatives Should Know About How A Specifier Works
Ever wonder how decisions are made about which products are included in a project specification? Want to know how you can help make project specifications better? Want guidance on what to include in meetings or presentations with architects and specifiers? This course, from the point of view of one independent architectural specifications consultant, is for product representatives who want to work better with specifiers, and better understand what makes some specifiers "tick." Our speaker is Liz O'Sullivan, CSI, CCS, CCCA. This webinar is FREE to CSI members and members of CSI's Product Representation Practice Group.
Register now!
20 Sessions Designed for Construction Product Representatives
The Product Representative Academy (

March 27-29

, Indianapolis)
How many times have you heard a marketing expert speak and thought, "That's not true in construction"? Construction product representatives make complex sales and create long-term relationships. CSI's Product Representative Academy was designed by product representatives working in the construction community to train representatives in this industry. At this event, you'll talk to experienced representatives, specifiers, and contract administrators about the roles and responsibilities of each member of the project team, and best practices for presenting products and supporting the design and construction teams. The 20 sessions offered for product representatives this year include:
Good, Bad, & Ugly Specifications: Dealing With Design Professionals When Their Spec is Unclear, Incomplete, & Incorrect
Delivering More Than the Meal: Building the Best Box Lunch Presentation
How to Submit the Ultimate Substitution Request
Blueprints to BIM - How Can I Navigate this Environment?
Bringing Home Projects from Trade Shows and Conventions
See a complete list of sessions, or register now at
www.csinet.org/academies
.
NEW Trusted Advisor Workshop (Denver,

May 16

)
What does it take to be a trusted advisor? Regardless of what product you represent, much of your success will be determined by: your skills, training, and understanding of construction; your ability to manage your network and resources; and your integrity and trustworthiness in the eyes of the community you work in. We'll address all three of these areas during CSI's Trusted Advisors Workshop. Topics will include: Ethics, Integrity, and Trust; Developing and Managing a Network; Identifying and Managing Your Representation Resources; and Know the Construction Process and the Players.
Learn more.
Online Right Now
Watch "Tips From Product Representation Experts" on YouTube
CSI has posted a recording of the webinar "Tips from Product Representation Experts" on the Institute's YouTube channel.
Watch it
or
download the slides
, or
read notes
from the session that were tweeted.

Join the Product Representative Discussions in CSI's LinkedIn Group
Each week, CSI posts a question about product representation in its LinkedIn Group. Recent discussions include:
What is the preferred way to approach Specification Writers/Architectures as a vendor in order to have them specify your product or add you as vendor?
Advice for Product Representatives on Subcontractors?
CSI members are let into the group once CSI has checked their membership status. Non-members are also allowed in the group case by case.
Join the group!
Products & Programs

Product Representative Practice Guide Available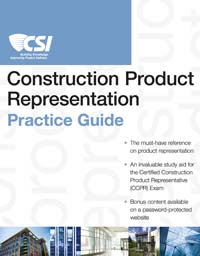 The must-have reference on construction product representation and the essential study aid for the
Certified Construction Product Representation (CCPR)
Exam, the CSI Construction Product Representation Practice Guide is an authoritative resource for the principles and best practices of effective construction product representation. This easy-to-follow guide covers a number of topics, including: the construction process and the roles a construction product representative can play in it; information that clients require to select appropriate products to meet project requirements; and the role a product representative plays in an Integrated Product Delivery (IPD) workflow. Member price $68/Non-member price $85.
Learn more or order it.
Corporate Partners Program
Building product manufacturers are using CSI's Corporate Partner Program to increase their exposure in the commercial construction industry. Each partnership is customized to the company's strategic business goals and objectives. Partner organizations enjoy value pricing on membership, education and certification, sponsorship and recognition opportunities, and increased visibility through CSI's network of construction professionals. See all 50+ partners and learn more at
www.csinet.org/CorporatePartners
.
Compliant Document Review (CDR) Program for Guide Specifications
CSI's
CDR Program
for guide specifications is a structured program for reviewing manufacturer guide specifications for conformance with CSI formats and guidelines. Through the program, manufacturers can have CSI certified experts review their guide specifications for conformance with CSI formats and guidelines. Guide specifications that conform are posted at
www.csinet.org/CDR
and may use the CDR logo. Guide specifications are reviewed for their conformance with MasterFormat, SectionFormat and PageFormat. Other good specification practices as identified in CSI's Practice Guides are also considered.
Learn more
.
CCPRs: Look for Education That Supports Your Renewal
CSI requires professionals who are renewing a Certified Construction Product Representative (CCPR) certification to have participated in continuing education related to product representation. Specifically, "50% of the topics must be related to the professional practice of the certification being renewed, as defined by the CSI Practice Guide." That's 12 hours of training! The aforementioned Product Representation Experts Webinar, Product Representative Academy, and Trusted Advisor Seminar will provide Professional Development Hours (PDHs) appropriate for renewing CCPR certifications. Select events at the Master Specifiers Retreat may also qualify. Learn more about renewal requirements at
www.csinet.org/CCPR
, and watch for CSI events that provide PDHs related to your certification.