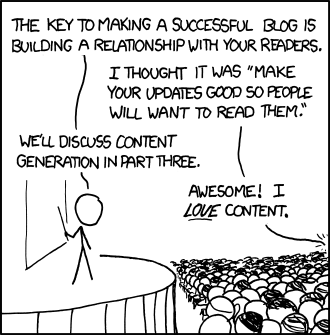 The Chicken & Egg of a successful blog are Content and Relationships. Think of your blog as a local restaurant; do you go there every weekend because the food's great or because the staff is friendly and all your friends are there?
Think of Cheers.
The "everybody knows your name" effect is a huge part of social media success.
Engagement
has replaced
ROI
as the
primary measurement of social media campaigns
. As one speaker put it at
DigiDay Social
, "What's the value of a conversation?" The point is to maximize the time and ways your audience interacts with your brand. While this type of thinking lives mainly in the B2C marketing world, B2B companies are slowly figuring out that people can build relationships with their brands too. Big Ass Fans does a great job of this, with an engaging
website
and strong presence on
Twitter
and
YouTube
. They make ceiling fans - always an exciting topic - fun!
On the other hand, the food still needs to be good.Otherwise people will leave, and take their friends with them. Or, even worse, never come in at all. Fundamentally,
useful content is why people view your page
. Remember, though, that "useful content" can be defined many different ways. It could be
educational
,
helpful
,
entertaining
, or
bizarre
; all meet some need and are therefore useful. For most building product manufacturers, content is "useful" if it helps make the sale. For example,
CalStar
and
Ceilings Plus
provide LEED calculators, a useful tool for architects focused on
sustainable design
.
Ideally you will develop both content and relationships with your readers. The two feed off each other; consistently posting good content builds your relationship, and building your relationships, which means listening to your audience, helps you create better, more useful content. For manufacturers, however, content will almost always be more important. Architects have plenty of places to socialize; what they need from you is information that helps them design better buildings.